---
HALOGEN SERIES OPERATING THEATRE LIGHTS
---
We continuously provide Operating Theatre Lights with Halogen Technology because the market demand is still there. After development and improvement in decades, Halogen is the proven technology to keep contributing for surgical markets.
---
Message
---


Different ranges of illumination cater to different needs
You can choose from 160 Klux to 80 Klux as the maximum intensity for varies usage in different operating theatres, minor surgery rooms and veternary clinics.
Perfect shadow free illumination
Multi-reflectors Focusing Technology installed in the specially calculated shape of the lighthead to provide the perfect shadowless illumination to surgeons for the comfortable operation.
Minimum temperature increase
The shape of the lighthead and the column type bulb seat guarantee the best air circulation to minimized the temperature increase on surgeon' s head during operation.
100% free of eye dazzling
Shading Tube Technology can isolate 100% downwards light (the light not action on the reflector) from the bulb to prevent the eyes of surgeons and nurses to be effected by light diffusion.
Advanced Full HD camera system
You can choose either an analog or digital camera installed at the centre of the light or on a separat arm. The video from both analog and digital camera can be finally viewed in your network PCs anywhere in the hospital. Live multimedia teaching in the conference room becomes just a simple and easy connection with a single network cable. The camera with CCD sensor to guarantee the true color, realistic and super resolution images on your monitor.
Sterilizable handle is made by PPSU
The sterilizable handle is made by PPSU plastic material which will not soften at the temperature up to 280 degree Celsius. This feature will prevent the mis-operation to cause the handle being heated distortion inside the high temperature Sterilizer.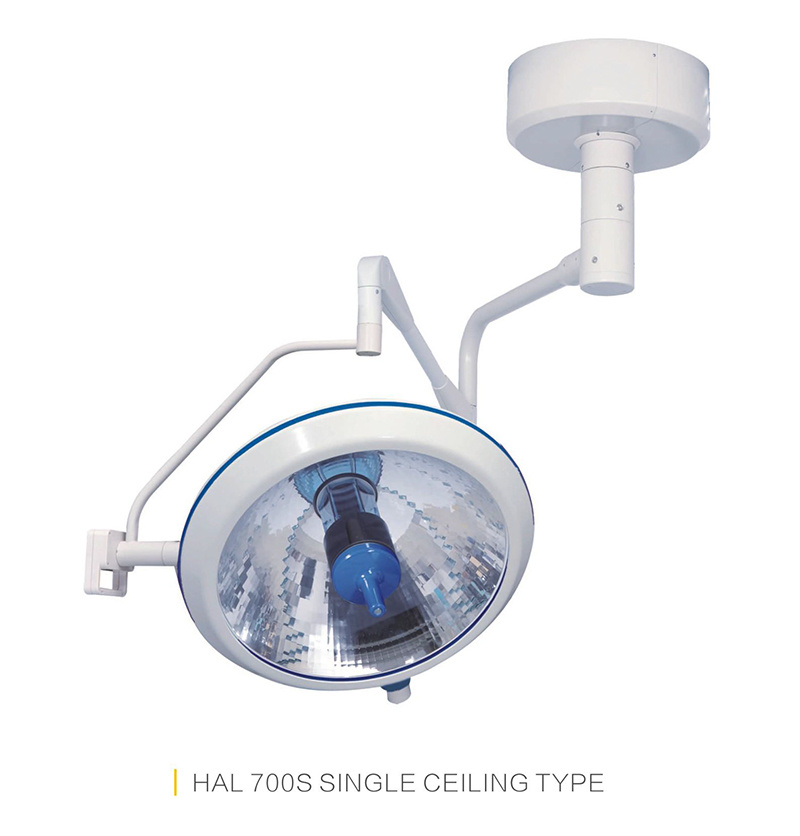 | | | |
| --- | --- | --- |
| Optical and technical specication | Hal 700 | Hal 500 |
| Intensity @ 1 meter (Lux) | 160,000 | 80,000 |
| Field diameter (cm) | 18-35 | 18-35 |
| Depth of the volume of light L1+L2 (cm) | 110 | 105 |
| Color Rendering Index (CRI)(Ra) | 95 | 95 |
| Color temperature (K) | 4,300 | 4,300 |
| Intensity control (%) | 25-100 | 25-100 |
| Type of intensity control | By control panel | By control panel |
| Type of field focusing control | By sterilizable handle | By sterilizable handle |
The Halogen Series Operating Theatre Lights are the perfect lighting solution for surgical procedures in medical facilities. These lights are designed with precision and functionality in mind, ensuring optimal illumination and visibility during surgeries. Equipped with high-quality halogen bulbs, these lights provide a bright and focused light output, enabling surgeons to perform with utmost accuracy.
Online Message
---
Thank you for your attention to us. If you have any needs or comments, please leave us a message.