---
ET700S ELECTRIC-HYDRAULIC OPERATING TABLE
---
Developments made in the conjunction with doctors: this is one of the basic principles which has made TECHARTMED the world market leader for operating tables. Close cooperation and years of experience have resulted in tried and tested products which facilitate the work in the operating room and help to increase the safety and comfort of the patient. Best example: this table can maintain stability in any position even with extreme loads. The modular structure enables it to be adapted to match the size of the patient and in no time at all it can be equipped for any surgical discipline. A longitudinal shift of up 350mm makes the operating table even more versatile.
---
Message
---
DETAILS
1. Maximum 340mm motorised longitudinal shift for flexible use of the C-arm.
2. Optional diveded back plate for easy module changes.
3. Leg plate: lmported gas spring for easy controls.
4. One button reposition function, designed and made specially for X-ray and C-arm use.
5. Optional double control system.
6. Built-in kidney bridge.
7. gas spring head plate.
Product Description
Engineered for increasingly complex surgical scenes, ET700S comes with intelligent automatic control system satisfying various demands of general surgeries. 500mm wide tabletop, 200kg loading system, long horizontal sliding that can be suitable for both X-ray and C-arm. ET700S is an ideal electric-hydraulic operating table.
• Longitudinal slide up to 340mm for free access to C arm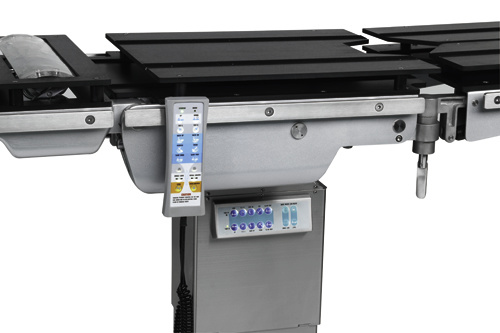 • Memory pad with antistatic, waterproof design.
• Optional override panel control makes the control safer
• Battery power for 50-80 operations
| | | | | |
| --- | --- | --- | --- | --- |
| Model | Length | Width | Tabletop lowest height | Elevation range |
| ET700S | ≥2000mm | 500mm | ≤690mm | ≥410mm |
PARAMETER
ET700S Electric-hydraulic operating table
Movements

Model: ET700S

Tabletop trendelenburg

Reverse Trendelenburg

≥28°

Trendelenburg

≥28°

Lateral Tilt (Left And Right)

≥18°

Head plate

Up

≥45°

Down

≥90°

Back plate

Up

≥50°

Down

≥60°

Leg plate

Up

≥15°

Down

≥90°

Outward

≥90°

Kidney bridge elevation

100mm

Horizontal sliding

≥340mm
Online Message
---
Thank you for your attention to us. If you have any needs or comments, please leave us a message.