---
LED 9 OPERATING THEATRE LIGHTS
---
LED 9 major operating Lights have been developed by the latest technology of the latest generation of warm white LED illuminance, perfect CRI and color temperature, and made in extremely flat and flower shape to fit for laminar flow environment with the following excellent features and value-added functions. The lights can be used for all kinds of Major Surgery and Endoscopic Surgery. We can customize the central axial unit and spring arm to cater for normal ceiling height, low ceiling height and extreme low ceiling height.HD image is optionally available for local and network live transmission.
---
Message
---

The widest ranges of illumination cater to different needs
You can adjust the light intensity from 8 Klux to 160 Klux for varies usage in different operating theatres.
Perfect shadow free illumination
Five flower-shaped light cells installed in the specially calculated shape of the light head to provide the perfect shadow less illumination to surgeons for the comfortable operation.
Special design for the requirement of laminar flow operating rooms
The shape of the flat body and each cell of the lighthead guarantees the best air circulation horizontally/vertically without any obstruction. The lights provide the best laminar flow circulation for all kinds of operating rooms.
The latest generation of LED illuminance
We supply the lights with the latest generation of warm white LED illuminance to guarantee the best Color Rendering Index and Color Temperature which are silimar to the natural sun light at 12pm noon.
Advanced Full HD camera system
You can choose either an analog or digital camera installed at the centre of the light or on a separat arm. The video from both analog and digital camera can be finally viewed in your network PCs anywhere in the hospital. Live multimedia teaching in the conference room becomes just a simple and easy connection with a single network cable. The camera with CCD sensor to guarantee the true color, realistic and super resolution images on your monitor.
Field focus adjusted by control panel
Field focus adjusted by control panel to allow the function of field focus adjustment still works when the lighthead installed by centrally integrated camera.
Endoscopic Surgery
Green light available for Endoscopic Surgery with three grades intensity adjustment. To switch over between major surgery and Endo surgery is by control panel.
Sterilizable handle is made by PPSU
The sterilizable handle is made by PPSU plastic material which will not soften at the temperature up to 280 degree Celsius. This feature will prevent the mis-operation to cause the handle being heated distortion inside the high temperature Sterilizer.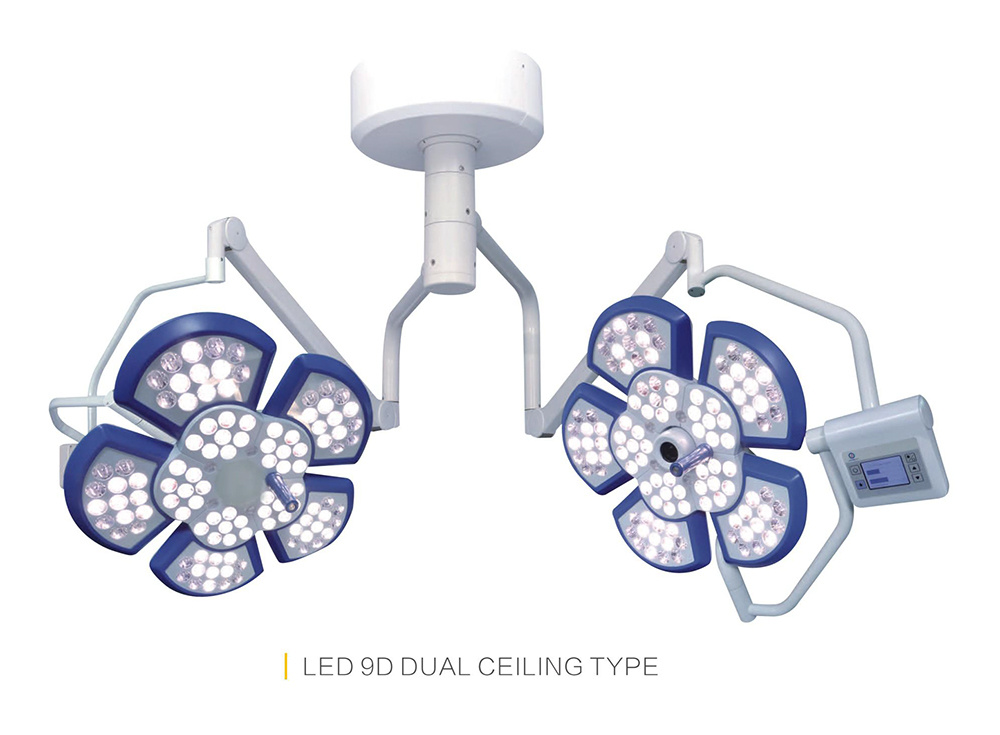 | | |
| --- | --- |
| Optical and technical specication | LED 9 |
| Intensity @ 1 meter (Lux) | 160,000 |
| Field diameter (cm) | 20-38 |
| Depth of the volume of light L1+L2 (cm) | 110 |
| Color Rendering Index (CRI)(Ra) | 97 |
| Color temperature (K) | 4,300 |
| Intensity control (%) | 25-100 |
| Type of intensity control | By control panel |
| Type of field focusing control | By control panel |
| Numbers of LEDs | 108 |
| Endoscopic Surgery | Green light |
| Type of Endo Surgery control | By control panel |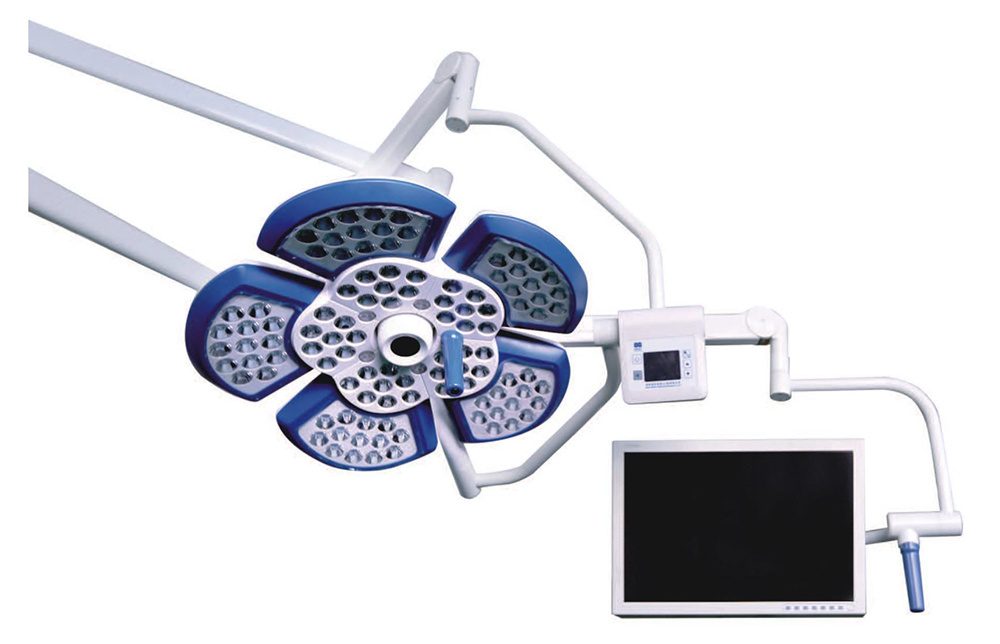 LED 9SV-2
SINGLE CEILING TYPE
with integrated HD imaging system and second arm monitor
| | |
| --- | --- |
| Electrical and mechanical specication | LED9DV |
| Power supply input voltage (VAC) | 100-240 |
| Power consumption (W) | 300 |
| Frequency (Hz) | 50-60 |
| Diameter of lighthead (mm) | 700 |
| Analog video camera HD (Optional) | Centrally integrated/separate arm |
| Digital video camera HD (Optional) | Centrally integrated/separate arm |
| LED service life (hrs) | 50,000 |
| 2nd/3rd arm with monitor | As per request |
| Mobile type | Yes |
| Mobile type with emergency battery back-up (hrs) | 4 |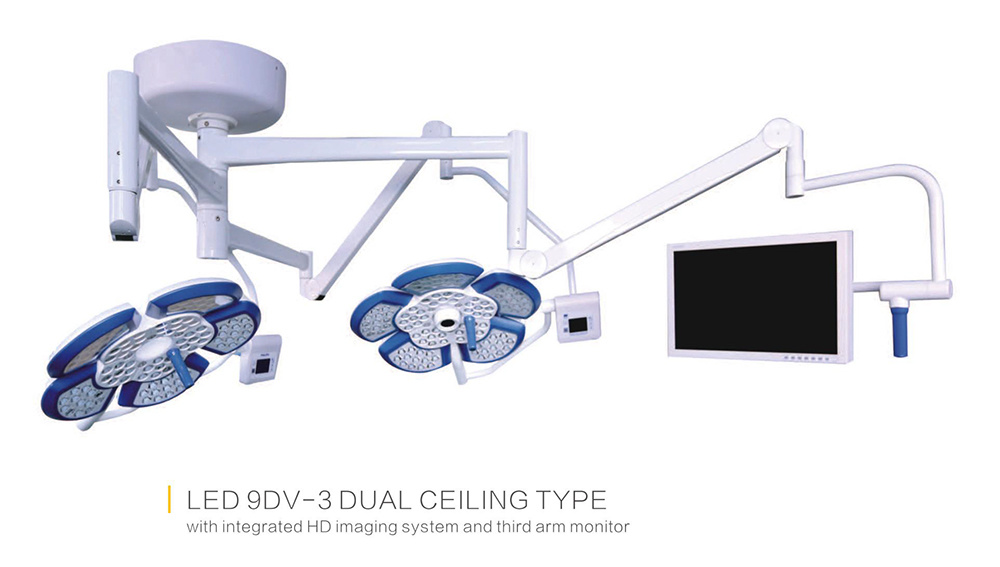 | | |
| --- | --- |
| Camera system specication | HD Digital |
| Sensor | 1/2.8" CMOS |
| Effective pixels | 1.920(H) x1,080(V) |
| Resolution | 1080P |
| Aspect ratio | 16:9 |
| S/N ratio (dB) | 52 |
| Lens zoom | 30XOptical/16X Digital |
| Aperture | F1.4(wide)/F4.7(tele) |
| Antiflicker | Yes |
| Autofocus | Yes |
| Type of iris | Auto |
| Signal outputs | Network |
| Local control | N/A |
| Remote control | Yes |
| Audio collection | Optional |
The LED 9 Operating Theatre Lights are the ultimate lighting solution for surgical environments. These state-of-the-art lights combine advanced technology with exceptional functionality, providing surgeons and medical professionals with unparalleled visibility and precision. With their high luminous efficiency and uniform light distribution, these lights ensure optimal illumination throughout the operating theater, minimizing shadows and enhancing surgical accuracy. The LED 9 lights are equipped with adjustable color temperature, allowing surgeons to select the most suitable lighting for different procedures. Their energy-efficient design reduces power consumption, contributing to a greener and more sustainable healthcare setting. Designed to meet the highest safety standards, these lights are easy to clean and maintain, ensuring a sterile and hygienic operating environment. Elevate your surgical practice with the superior performance of the LED 9 Operating Theatre Lights.
Online Message
---
Thank you for your attention to us. If you have any needs or comments, please leave us a message.